September 16, 2014, digital imaging equipment biennial feast – German photokina 2014 exhibition officially opened. As the world's largest and highest level of technology imaging equipment and technology exposition, and many other well-known manufacturers gathered here. The hummingbird network reported the mission luxury lineup team to participate in the photokina 2014 exhibition site reported.
Panasonic will be released a few days ago equipped with M4 / 3 system outsole portable digital camera GM1 upgraded version GM5 news spread like wildfire on the Internet, according to its explosive information on a product than the Panasonic GM5 GM1 has drastically changed, added EVF electronic viewfinder, adds a hot shoe flash and so on. Well-known news networks difficile true, we did not focus so much on this message, but make us surprise is that this product is in German photokina exhibition aiming at real real exhibited. Here's the scene with readers and friends feel the next big end and the small stature of this collision products, Panasonic GM5.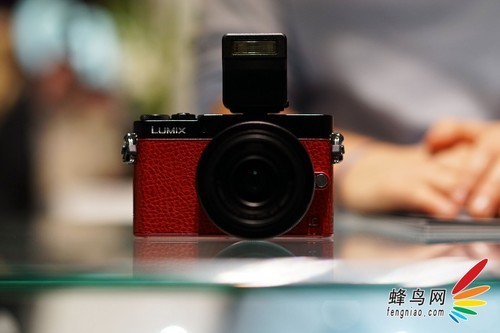 As can be seen from the picture, the camera's "small" is really worthy of the name, lack of palm-sized compact body, very portable. The basic layout of the keys to the right of the camera body for easy one-handed manipulation.
New entrants have 1.2 million pixel EVF electronic viewfinder GM5 affect its stature, but the whole body is more condensed, looks very retro van. And can also be equipped with a hot shoe flash GM5, equipped with an external flash GM5 very fresh and retro. Red and black color leather with let this compact DC, looks abnormal "light show."
Slimming performance is not to lose weight
Performance, Panasonic GM5 uses a 16 million pixel M4 / 3 format CMOS sensor and the Venus processing engine to ensure that the texture of the screen shot, the sensitivity range ISO 100-25600 can also meet shooting under low light, the maximum shutter speed to 16000 seconds, continuous shooting speed of up to 6.5 / sec, shooting performance is very powerful.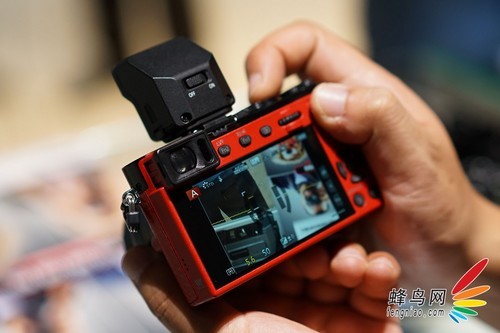 Compared to GM1, GM5 the back of the screen to upgrade to 3 inches 920,000 pixel touch screen, the picture is more clear, color is also very comfortable. Meanwhile GM5 still built in Wi-Fi capability, with easy transfer between computers and camera phones and other products of the photo.
GM5 still interchangeable lens camera kit with a 12-32mm lens, aperture for shooting 3.5-5.6 basically meet all day on. We can replace the M43 lenses according to their preferences, together with GM5 released two new M43 lenses are Lumix G Vario 35-100mm f / 4.0-5.6 ASPH Mega OIS and LUMIX G 14mm f / 2.5 II ASPH, better able to give GM5 lens with the program.